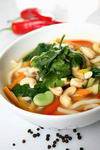 1 carrot in sticks
1 red pepper in sticks
1 yellow pepper in sticks
1 glove chopped garlic
20 fresh broad beans
1 tea spoon chopped fresh ginger
½ br. Spinach leaves
400 gr cooked Ubo noodles
1 soup spoon fish sauce
3 soup spoons soy sauce
100 gr roasted cashew nuts
1 soup spoon sesame oil
1 lt chicken stock
Salt- pepper
Fresh coriander leaves
Method :
Head sesame oil in stock pot.
Sauté the garlic and ginger for seconds.
Add the carrots, peppers and broad beans.
Drizzle with soy sauce and fish sauce.
Boiled the stock and add in the pot.
Finally put the noodles and the spinach.
Leave the soup to boil again and correct the seasoning.
Garnish with nuts and some fresh coriander leaves and serve.