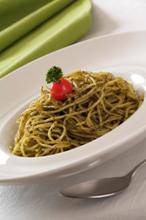 Ingredients:
½ kg dry spaghetti
2 lt chicken stock
4 soup spoons olive oil for frying
½ cup white dry wine

For pesto:
1 cup basil leaves
½ cup extra virgin olive oil
2 tea spoons roasted pine nuts
2 soup spoons graded parmesan cheese
Salt and pepper

Method:
Cook the spaghetti in the boiling chicken stock for 10-12 minutes.
If you are not planning on using it immediately then cool the spaghetti in a strainer.
Drizzle with a little olive oil, say they do not stick together.
Place all the pesto ingredients in a blender and blend to form a smooth paste.
Put the pesto in a deep frying pan with the wine and place over a high heat, add the spaghetti and mix well.
Serve with grated halloumi or parmesan.