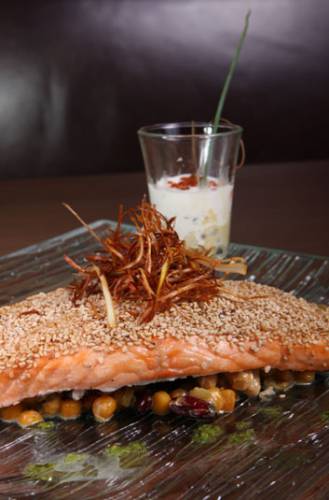 Ingredients
For salmon:

4 salmon fillets
4 soup spoons sesame seeds
4 soup spoons olive oil
4 soup spoons white dry wine
Ι leek
Salt and pepper
For chick peas and red beans:

200 γρ cooked chick peas
200 γρ cooked red beans
1/4 glass olive oil
1/2 soup spoon lemon juice
½ glass white wine
200 grams fresh cream
1 medium chopped onion
1 chopped garlic
1/2 peeled and chopped carrot
2 soup spoons chopped colorful peppers
1/6 chopped fennel
1 soup spoon chopped leek
Salt and pepper
For coriander pesto:

½ bunch fresh coriander leafs
5 soup spoons olive oil
1 soup spoon roasted pine nuts
Little parmesan cheese
1 soup spoon lemon juice
4 black pepper corn
Method:

Start first to prepare the coriander pesto by blend all the ingredients in mixer until be came a smooth cream.
Cut the leeks in fine julienne and fry until golden brown. Drain well on towel.
Season the salmon fillets with salt and pepper, put them in not stick roasted pan, add some water, the olive oil and wine and roast in hot oven for 20 minutes.
In heave pan or small casserole fried oil vegetables for chick beans with out color.
Add lemon juice and wine and finally the red beans and chick beans.
Add fresh cream, reduce fire and leave mixture to set.
Serve the salmon on top of beans and leeks on top of salmon.
Drizzled with coriander pesto