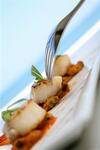 12 fresh king scallops
5 soup spoons truffle oil
2 soup spoons olive oil
½ chopped onion
1 chopped garlic glove
½ coffee cup white dry wine
2-3 ripe tomatoes shredded
300 gr mussel meat
2 basil leaves
1 bay leave
Salt, pepper
 Μethod:
Start making the mussel ragout. Head a non stick pan, add the olive oil and sauté the onions.
Add the mussel meat, keep sauté for another 1 minute and add the wine. Leave the liquids to evaporate and add the tomatoes.
Slow down the fire and add the bay leaves and basil. Season with salt and fresh pepper.
In other non stick pan head the truffle oil until smoke point and flash fry the scallops for 2-3 minuets on both sides.
Remove from the pan and leave them on towel until dry.
Divide the ragout in dishes topped with the scallops and serve.