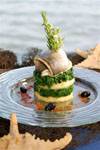 For sea bass:
8 medium sea bass fillets boneless
2 soup spoons olive oil
1 tea cup dry white wine
Salt, pepper
For potato rostie:
8 medium potatoes, washed and peeled
2 soup spoons fresh cream
4 tea spoons olive oil
Salt, pepper
1 punch spinach (only the leaves)
For sun dried tomato pesto:
200 gr sun dried tomatoes
½ tea cup olive oil
20 gr roasted pine nuts
40 gr parmesan cheese
½ garlic glove
Method:
Season the fillets, shape like rings and set them in roasting pan.
Drizzled with wine and olive oil and roast in pre heated oven on 180 decrees for 15 minutes.
Scrub potatoes and mix with salt, pepper and fresh cream.
Shape on your hands the potatoes like burger and shallow fried them in pan with olive oil, carefully not to break them. Tern over and leave them to get a nice color.
Blend all the ingredients for pesto in mixer until become cream.
Sauté spinach leaves and season.
Serve the potatoes topped with sauté spinach and sea bass and drizzles with cold pesto.