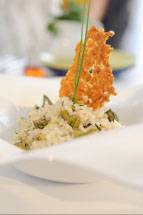 1 cup Arborio rice
1 cup white wine
4 Tbl spoons olive oil
½ onion finely chopped
½ tsp garlic finely chopped
2 Tbl spoons finely chopped fennel bulb
1 cup roughly chopped fresh asparagus
1 lt hot chicken stock
3 Tbl spoons grated parmesan
1 Tbl spoon unsalted butter
1 Tbl spoon finely chopped herbs (dill, basil, parsley, mint)
Salt and Pepper
Method
In a deep frying pan sauté the onion asparagus and fennel bulb in a little olive oil finally add the garlic.
Add the rice to the pan and keep stirring for another minute, add the wine and allow it to cook until all the juice is absorbed by the rice, then little by little add the chicken stock till it absorbs then continue adding and allowing to absorb till your rice is cooked.
Complete the dish by adding your chopped herbs, parmesan, butter and then adjust seasoning with salt and pepper and serve.