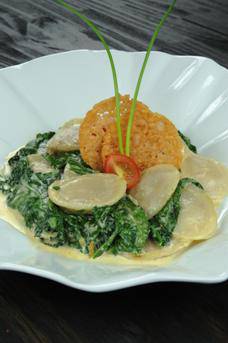 For ravioli dough
2 cups (240gr) flour
1 pinch salt
2 eggs
2 tbsp olive oil
A little water if needed
For the stuffing
2 cups finely chopped leeks
½ onion (finely chopped)
½ tsp coriander (finely chopped)
1 cup fresh anari cheese (mashed)
¼ tsp chives
1 tbsp olive oil
1 egg
Salt and pepper
For the sauce
2 tbsp olive oil
¼ cup white wine
1 clove of garlic (finely chopped)
½ onion (finely chopped)
2 cups fresh cream
½ tsp herbs (basil, dill, oregano – finely chopped)
4 cups spinach leaves
Salt and pepper
Method

Prepare the dough:
Mix the flour, salt, eggs, oil and, if needed, add some water. Knead the dough until it becomes smooth. Cover and leave to rest for 20 minutes.
Prepare the stuffing:
In a small non-stick frying pan heat the olive oil and lightly sauté the onions and the leeks for 3-4 minutes. Remove from the heat, drain, leave to cool for a while and then mix them with the rest of the ingredients for the stuffing.
Prepare the ravioli:
On a clean floured surface, roll out the dough into a thin sheet. Cut the dough into the shapes of your choice. Place a spoonful of stuffing onto each piece, fold over and close by lightly pressing the edges together with a fork, making sure they are well stuck. Boil salted water or broth in a large pan, add the ravioli and cook for approximately 10 minutes.
Prepare the sauce:
Sauté the onion and garlic in a frying pan for 1-2 minutes. Add with wine and let the liquid evaporate. Add the spinach and continue cooking until the leaves are just tender. Pour over the cream, sprinkle with the herbs, season with salt and pepper and simmer gently for another 3-4 minutes until the sauce starts to thicken lightly. Serve the hot ravioli with the spinach.
Chef's tips
Make the ravioli beforehand and keep them in an airtight container in the freezer until you need them. No need to defrost before cooking.