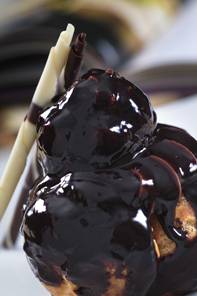 Ingredients for choux
¼ lt (1 ¼ cup) water
100 gr unsalted butter or margarine
125 gr (1 ½ cup) soft flour
4 eggs
½ tea spoon sugar
Pinch of salt
Method
Bring the water, sugar, salt and fat to the boil in a saucepot.
Remove from heat.
Add the flour and mix in with a wooden spoon.
Return to a moderate heat and stir continuously until the mixture leaves the sides of the pot.
Remove from the heat and let to cool.
Gradually add the eggs and mixing well, one by one.
The paste should be of dropping consistency. Pipe out on to a lightly greased dampened baking sheet
into pieces the size of a walnut.
Bake them in preheating oven on 175◦c
Chocolate sauce
Ingredients
10 gr corn flour
1 cup milk
25 gr dark chocolate
65 gr caster sugar
5 gr unsalted butter
Method
Dissolve the corn flour with little cold milk and boil the rest of the milk. Add the sugar and durk chocolate.
Poor the dissolved corn flour in the chocolate mixture and whisk well. Leave the sauce on the heat and when is ready add the butter.
Ingredients for cream patisserie
1 lt milk
1 cup sugar
½ tea spoon vanilla
Zest from 1 lemon
5 soup spoon corn flour
2 eggs
½ cup whisked fresh cream
Method
Poor the ¾ milk in a pot and add vanilla, lemon zest and sugar.
Put the above mixture on a heat.
In another pot mix well eggs, corn flour and ¼ cold milk
Combine the two mixtures and whisk until the cream is very soft and cook well.
A small piece of cold butter gives shining texture to the cream.
When cool down add the fresh cream.
Fill the small choux with the cream and arrange them in a small tower shape (in a glass or any other kitchen bowl) poor some of the chocolate sauce on the top or honey or caramel sauce or just icing sugar.