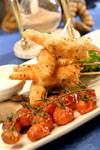 For prawns:
20 large, peeled prawns
20 wooden skewers
4 soup spoons flour
½ tea cup beer
1 tea spoon black sesame seeds
1 mush garlic glove
1 dash cardamom powder
Salt, pepper
½ lt vegetable oil
For vegetables:
4 bunch cherry tomatoes
4 big wild mushrooms
1 soup spoon olive oil
For sauce:
½ lt coconut milk
2 bay leaves
1 tea cup dry white wine
2 chilled butter cubes
1 tea spoon curry powder
Method:
Mixed well in a bowl the flour, garlic, cardamom, sesame seeds, beer, salt and pepper until you get a nice gruel.
Leave for 30 minutes to rest.
Pass the prawns on skewers.
Arrange tomatillos and mushrooms in roasted pan, brush with olive oil and cook in oven on 120 degrees for one and a half hour.
Starts making the sauce by reduce the wine in sauce pan by half.
Add the coconut milk, bay leaves and curry powder.
Slow cook the sauce until start to be thick. Finally add the butter and whisk well.
Head the vegetable oil in small casserole, pass prawn kebabs from gruel and deep fried until get a nice golden color.
Serve prawn kebabs with warm vegetables and separate sauce.