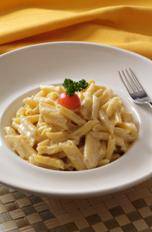 Ingredients:
½ kg dry penne pasta
2 lt chicken stock
For cheese sauce:
4-6 basil leaves
1 ½ cup fresh cream
200 grams Gorgonzola cheese
100 grams Parmesan cheese
100 grams Halloumi cheese
100 grams Gouda cheese
½ cup white dry wine
4 cherry tomatoes
Salt and pepper

Method:
Boil the penne in boiling chicken stock for 8-10 minutes.
If you do not plan on using the pasta immediately strain it and allow it to cool.
Drizzle with a little olive oil so that it does not stick together.
Grate all the cheeses in a bowl and mix together.
Place a pan over heat add the wine and reduce it by half.
Add the cream the basil and then add the cheeses.
Lower the heat stirring continuously and once the sauce begins to bind add the penne, stir well and adjust the seasoning with salt and pepper.
Garnish each plate with a cherry tomato and serve.