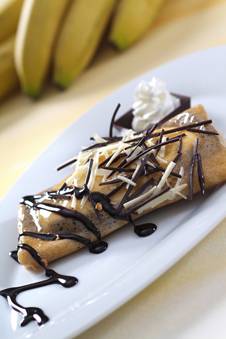 Pancakes batter
Ingredients
100 gr or 1 cup flour
Pinch of salt
¼ lt milk whole or skim γάλα
1 egg
10 gr melted unsalted butter or margarine
25 -30 gr sugar
Little sunflower oil for pan coating
Method
·         Sieve the flour and salt into bowl, make a hole well in the center.
·         Add the egg and milk, gradually incorporating the flour from the sides, whisk to a smooth batter.
·         Mix in the melted butter.
·         Heat the pancake pan, clean thoroughly.
·         Add some oil, heat until smoking.
·         Add enough mixture to just cover the bottom of the pan thinly.
·         Cook for a few seconds until brown.
·         Turn and cook on the other side. Turn on to a plate to become cool.
Caramelized banana
Ingredients
4 bananas (not too much set) cutting in thick slices
1 soup spoon caster sugar
5-6 drops of lemon juice
Zest of half lemon
1 cup whisked fresh cream
Method
·         In a pan put the caster sugar, juice and lemon zest.
·         Add the bananas to get caramelized.
·         Leave the mixture to cool down and add the fresh crea
Chocolate sauce
Ingredients
·         10 gr corn flour
·         1 cup milk
·         25 gr dark chocolate
·         65 gr caster sugar
·         5 gr unsalted butter
Method
·         Dissolve the corn flour with little cold milk and boil the rest of the milk. Add the sugar and durk chocolate.
·         Poor the dissolved corn flour in the chocolate mixture and whisk well. Leave the sauce on the heat and when is ready add the butter.
Fill and roll the pancakes with the mixture of bananas and poor some chocolate sauce on the top.You may serve the bananas pancakes with vanilla ice cream.