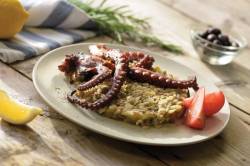 Recipe for 10 Servings
Ingredients:
5 kg octopus
½ cup olive oil
1 cup dry red wine
1/3 cup vinegar
2 cloves
1 small cinnamon stick
2 bay leaves
Instructions:
Make sure the octopus is thoroughly cleaned. Heat the olive oil in a casserole and add the octopus.
Then add all the spices and cover the casserole with its lid. Cook the octopus until its liquids have been released and let them be reabsorbed.
Then add the wine and vinegar and cook until they are absorbed and the octopus as started to glaze.
Chef's Tips
You can serve with lentils or other pulses.
Seasonal Food Commodities

Vegetables/Salad/Herbs:
Endives, carrots, cauliflower, cabbage, brussel sprouts, lettuce, broccoli, beets, potatoes, leek, chicory, celery, spinach, Swiss chard, fennel bulb, green beans.
Fruits:
Pears, apples, pomegranate, lemons, tangerines, grapefruit, oranges.
Nuts / Pulses:
Chestnuts, almonds, walnuts, hazelnuts, pistachios, dried figs, raisins, lentils, white beans, louvi (black eyed peas), dried broad beans, chickpeas.
Fish:
Trout, freshwater bass, squid, octopus, mullet, whitebait, sea bream.
Poultry / Meat:
Chicken, lamb, goat, beef, pork.
Traditional Dishes:
Fig pie, palouzes (grape must jelly), soutzoukos, epsima (concentrated grape juice), quince paste, carob syrup, pasteli (sesame honey brittle)