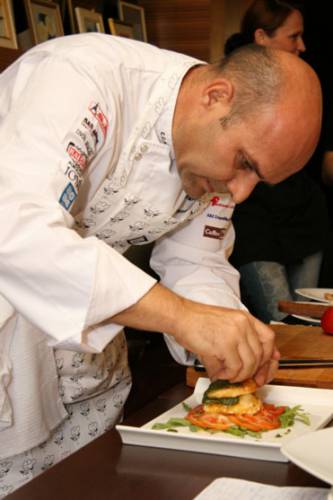 For the cheese:

4 fresh mozzarella cheese balls
100 grams flour
1 soup spoon sugar
½ glass beer
4 tea spoons black sesame seeds
1 mashed garlic clove
½ tea spoon mashed ginger
2 soup spoons olive oil
Salt and pepper
Oil for cooking
For the salad:

½ bunch rocket leafs
4 tomatoes in thin slices
4 soup spoons basil pesto
4 soup spoons olive oil
Salt and pepper
Method:

Leave the cheese to drain well.
Mixed in a bowl the flour, sugar and sesame seeds. Add the rest of ingredients and whisk well.
Pass the cheese from flour, deep fried until golden brown and leave to drain.
Arrange the rocket leafs in plates topped with tomato slices and warm mozzarella tempura.
Add a spoon full pesto on top of cheese, some drops on plate and serve.