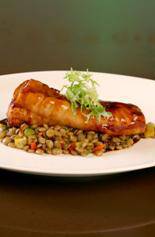 Ingredients:
4 monk fish fillets
1 cup sugar
1 cup ketchup
1 cup light soy sauce
1 cup water
For lentil salad:
4 cups cooked lentils
1 cup chopped vegetables (aubergine, fennel, carrot, onion, morrows, garlic and colorful peppers)
2 soup spoons olive oil
1 small cup Japanese "saki"
Salt and pepper

Method:
Mix the sugar, ketchup, soya and water in a pot. Boil for 5-10 minutes until the sauce begins to thicken slightly. Add the fish fillets to the salsa and allow for another 20 minutes to cook.
In a pan sauté the vegetables with the olive oil season with salt and pepper and deglaze with saki. Allow one minute to cook out and add the lentils.
Add 3-4 spoons of the salsa from the fish to the lentils. Mix the lentil mixture well, then portion and add to the centre of a plate remove the fillets and place on the top of the lentil salad and serve.