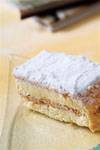 Ingredients:
½ kg puff pastry
1 patisserie cream
Icing sugar for deco
Ingredients for patisserie cream:
1 lt milk
1 tea cup sugar
1 vanilla
Zest from a lemon
5 soup spoons corn flour
2 eggs
½ tea cup whipped cream
Method for patisserie cream:
Warm up milk, sugar, vanilla and zest together.
Dissolve corn flour with some milk and the eggs.
If you want the cream to be lighter add some whipped cream also.
Leave the cream to cold.
Add the cream on top of cooked puff pastry.
Method:
Open the puff pastry in three sheets and make holes with a folk.
Cook them in pre heat oven on medium fire.
Prepare the cream and cover two sheets.
Keep the Millefeuille in fridge until cream is set.
While is cold cut the cake in portions, dust with icing sugar and serve.