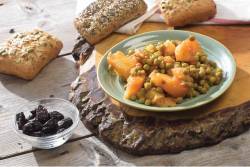 Recipe for 10 Servings
Ingredients:
1 kg peas
½ bunch finely shredded dill
½ cup olive oil
2 medium onions, thinly sliced
3 medium carrots, thickly sliced
3 potatoes, diced
3 ripe tomatoes, chopped
1 tablespoon tomato paste
Vegetable stock
1 cinnamon stick
1 bay leaf
Salt and freshly ground pepper
10 whole mullets dredged in flour and deep fried in sunflower or olive oil
Instructions
In a saucepan saute the onion in olive oil and then add the carrot and potato.
Add the peas and continue to saute.
Add the tomato paste and fresh, chopped tomatoes.
Cover with the stock and finally add the bay leaf and cinnamon stick.
Serve with the fish.
Chef's Tips
For best results make sure the fish is dry before frying and the oil is hot!
Seasonal Food Commodities
Vegetables/Salad/Herbs:
Avocado, green amaranth, early cucumbers, early eggplant/aubergine, dill, endive, carrots, zucchini/courgette, cabbage, parsley, fennel, lettuce, beets, peppers, chicory, radishes, celery, Swiss chard, spinach, asparagus, broccoli, tomatoes, taro, green beans
Fruit:
Summer oranges (Valencia), strawberries, cherries, apricots, medlar, early melons, early watermelons.
Nuts/Pulses:
Raisins, walnuts, almonds, chestnuts, lentils, peas, white beans, louvi (black-eyed beans), dried broad beans, chickpeas.
Fish:
Trout, freshwater bass, squid, octopus, mullet, whitebait, sea bream.
Poultry / Meat:
Chicken, lamb, goat, beef, pork
Traditional Dishes:
Honey from different kinds of blossoms, citrus blossom sweet, taro with celery (sometimes
also with meat)