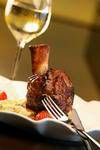 Lamb chops:
4 lamb chunks
1 liter pineapple juice
A large diced onion
½ cup (100 ml) vegetable plant oil
Fresh cardamom and pepper
Mashed potatoes:
8 medium size potatoes
½ glass of milk
2 tablespoons unsalted butter
2 tablespoons chopped fresh mint
Salt and pepper
Vegetables:
12 cherry tomatoes
12 small okras
12 small asparagus
Baby marrow and carrot, in dice
2 tablespoons olive oil
1 teaspoon white sesame
Salt and pepper
Method:
Season the chunks to taste and sprinkle with cardamom
Heat the oil in a small pan, and brown the meat on both sides
Add the onion and fry until soft. Then add the pineapple juice
Simmer until soft
Boil the potatoes in the skin until cooked, clean and mash in a mixer. Add the butter and milk and mix. Remove from mixer and add mint, salt and pepper.
Sauté the vegetables in a pan, sprinkle with sesame, add some salt and pepper for taste.
Once cooked, remove the chunks from the sauce, and keep on boiling the sauce until it starts to thicken. Strain the sauce through a sieve and keep it warm.
Serve the chunks on top of the mash potatoes, garnish with the vegetables and pour sauce over.