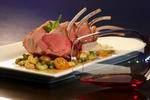 4 racks of lamb with 4 chops in each
½ kilo fresh black eye beans
½ cup honey
10 kumquats
2 chopped hot red peppers
1 tablespoon fresh lime juice
4 leaves fresh mint
Salt and freshly ground pepper to taste
Method :
Grill in the oven the racks of lamb until brown in an oven for 25 minutes at 180 degree Celsius.
Cook the beans in water and drain.
Add them to a pan, with the rest of the ingredients, and cook until glazed well.
Remove the racks from the oven, cut the chop and serve on top of the beans.