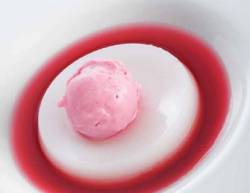 Recipe for 10 Servings
Ingredients:
5 cups water
5 heaped tablespoons nisiaste (maize powdered
starch) or cornflour
To serve
10 tablespoons rose syrup
10 teaspoons rosewater
Instructions
Put 4 cups of water in a saucepan and heat.
Put the 5th cup of water in a bowl and stir in the nisiaste or cornflour. Add this to the pot and stir constantly until it starts to bubble and thicken.
Add half the rose water and continue stirring until it is well cooked and turn white.
Sprinkle a pyrex or a small dish with the remaining rosewater and pour in the steaming mixture, 'the mahalepi'.
Allow to cool, then place the pyrex in the fridge to thicken.
The next day cut the mahalepi into pieces and shapes of your choice.
Serve the mahalepi sprinkled with syrup (diluted in water) and rosewater.
Chef's Tips
If you want the mahalepi to be more shiny you can add very little sugar during cooking.
If you would like a more traditional version, you may use rose ice cream instead of rose syrup.
The longer it is cooked, the firmer the mahalepi.
Seasonal Food Commodities
Vegetables/Salad/Herbs:
Okra, cucumber, dill, endive, green amaranth, zucchini/courgette, onions, cabbage, parsley, fennel, lettuce, peppers, chicory, celery, Swiss chard, garlic, tomatoes, beets, radishes,  carrots, squash, eggplant/aubergine, potatoes, taro, 'poules' (baby taro), green beans, fresh louvi
Fruit:
Apricots, cherries, peaches (some varieties), watermelons, sour cherries, melons, pears
Nuts/Pulses:
Raisins, walnuts, almonds, chestnuts, lentils, peas, white beans, dried louvi (black eyed peas), dried broad beans, chickpeas
Fish:
Trout, freshwater bass, mullet, whitebait, sea bream, kourkouna (rabbit fish), white seabream, parrot fish, saddled seabream
Poultry / Meat:
Chicken, lamb, goat, beef, pork
Traditional Dishes:
Fresh 'louvi' with zucchini/courgette, eggplant/aubergine in tomato sauce, okra, green beans in tomato sauce