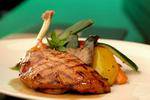 4 Guinea fowl fillets, skinned
20 ml corn or sunflower or olive oil (for frying)
Marinate :
120 gr. honey
20 ml soy Soy sauce
200 ml fresh orange juice
1 clove of garlic
1 gr of fine chopped ginger
Salt and pepper
Sauce:
400 ml sweet wine
100 gr. honey
30 gr cold butter
Salt and pepper
Vegetables:
500 gr potatoes, boiled in their skin, and cut into quarters
3 sweet peppers of different colours cut into quarters
4 wild mushrooms
2 sliced baby morrows
2 sliced medium size aubergines
4 fresh onions cut into half
2 sliced carrots
50 ml olive oil
Salt and pepper
Method:
Marinate the fillets over night
Heat the oil in a non-stick pan and sauté the fillet on both sides.
Take the fillets out, and keep them warm
Add the wine to the same pan and boil until the quantity is half reduced.
Add the honey, mix the butter and finish with salt and pepper.
Sauté the vegetables with the potatoes, and serve.