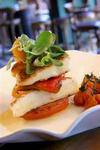 600 gr halloumi cheese cut in thick triangles
2 red bell peppers
2 yellow bell peppers
8 tomato slices
4 soup spoons honey
Water cress leaves
4 vine cherry tomatoes
Method:
Drizzled the vine tomatillos with olive oil and cook them in slow oven for 2 hours on 130c.
Cook the bell peppers on the grill or in hot oven until start to get black.
Remove from hot surface and peel all the zest while are still hot. Cut them in half and remove all the seeds.
Grill the halloumi cheese and sliced tomatoes from both sides.
Serve the cheese with roasted peppers, topped with water cress and drizzled with honey.
Accompanied with hot roasted tomatillos.