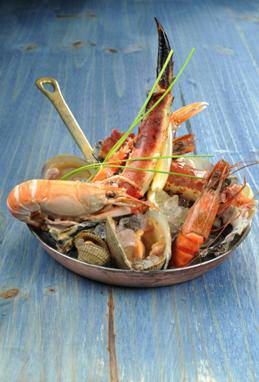 4 large scampi
8 large prawns
16 good oysters (closed)
12 black mussels
20 lagoon cockles
8 seashells
4 crab legs
2 lemons
6 cups fish stock
Sea salt
Method
Boil the stock in a large pot. Add the crab legs and boil for 3-4 minutes. Remove with a slotted spoon and cook the scampi for 5 minutes. Remove them and put in the prawns. Cook for 4-5 minutes and at the end cook the mussels for 1-2 minutes.
Leave all seashells to drain and cool.
With a special knife open the oysters, the seashells, and the lagoon cockles, being careful to preserve their natural juices in the shells.
Serve all seafood on crushed ice and accompany with lemon wedges and sea salt.

Chef's tips
Holding them in a towel to protect your hands, open the oysters from the back by severing their connective sinew.