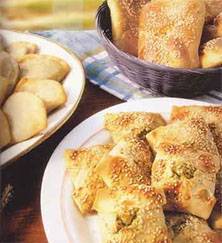 Ingredients for the filling:
2 kg mizithra or anari cheese (sweet)
2 egg yolks
2 vanilla sugars
4 soup spoons honey
1 soup spoon lemon zest
1 1/2 soup spoon cinnamon powder
1 soup spoon butter
300 grams sugar
2 egg yolks beaten with little water
Ingredients for the dough:
2 kg flour
2 tea cups oil
1/2 tea spoon salt
650 grams sugar
6 eggs
5 soup spoons strain yogurt
50 grams yeast
1/2 tea cup milk
Method:
Dissolve yeast with warm milk add some flour and leave the barm to set. Whisk oil with sugar in a bowl. Add the beaten eggs, salt, yogurt and the ready barm. Work well the dough.
Leave the dough to rest and prepare the filling. Mush the soft cheese and mixed with 2 egg yolks, vanilla sugar, honey, lemon zest, ½ spoon cinnamon and batter. Mixed well.
Add the sugar slowly and mixed. Open the dough in thin fyllo cut in round shapes and add one spoon full from the stuffing. Close well, brush with egg and dust the rest of cinnamon.
Cook them in buttered roasting pan in pre headed oven on 180 degrees for 30 minutes.
Serve cold or hot.