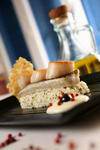 2 coffee cups Arborio rice
½ chopped onion
2 soup spoons olive oil
½ coffee cup white wine
4 cups chicken stock
2 soup spoons chopped dill
2 soup spoons parmesan powder
2 small butter cubes
4 small sea bass fillets
12 king fresh scallops
Olive oil for sauté
Salt-pepper
Method:
Put a non stick saucepan over a low heat, add the olive oil and chopped onion cover with a lid and cook until translucent for about 2 minuets. Meanwhile bring the chicken stock the boil.
Add the rice to the onion, pour the wine and stir well to mix.
Add the hot stock a little at a time, stirring frequently to prevent the rice from stick.
At the end, add the stock gradually, bring to the boil and let the rice to absorb the liquid. Finish the risotto by adding the parmesan cheese, the butter cubes and the chopped dill.
Add the fish fillets on preheated baking sheet and roast in the oven for 7 minuets on 200c.
Season the scallops with salt and pepper.
Heat a frying pan until very hot. Add the olive oil and then the scallops. Cook for 2-3 minuets on each side. Remove from the pan and leave them on towel to dry.
Dived the risotto in 4 serving dishes, topped with roasted sea bass fillets and the scallops.