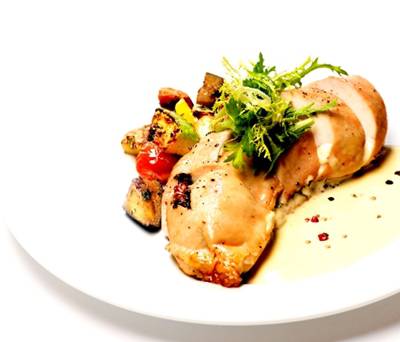 For the chicken:
4 chicken fillets skin off and bone less
4 large sticks kefalotyri cheese
2 bacon slices
2 table spoons chopped fresh coriander leaves
Salt and pepper
4 table spoons white wine
4 table spoons butter
For sauce:
1 table spoon butter
½ chopped onion
200 ml chicken stock
½ liter fresh cream
½ glass white wine
3 tea spoons french mustard
5-6 tarragon leaves
Some colourfull pepper corns
Salt and pepper
For accompaniment:
400 grams vegetables of your choice
400 grams potatoes purre
Small salads
Method:
Scrach the chicken fillets and open them carefully in to butterfly shape.  Beat them lightly until they become flat.

Add salt and pepper and sprinkle with the chopped cilantro.

Wrap the cheese sticks with the bacon slices and place them in the middle of the fillets.

Close the fillets and place them in the oven.

Pour the wine and butter and bake in preheated oven for 35 minutes at 190 degrees.

As fillets are baked prepare the sauce.

Place a small saucepan on fire, heat butter and thoroughly wilt the onion lightly, add the mustard and cook for 1 minute.

Pour with the wine, let it almost be evaporated to pour the broth. Continue boiling until the broth to be reduce to ¼. Add the cream, tarragon and simmer until the sauce becomes thick.

Remove the fillets from the pan, cut them diagonally into 3-4 slices and serve over the mashed potatoes with vegetables.

Pour the sauce, sprinkle the peppercorns and decorate the fillets with small wisps of salad.