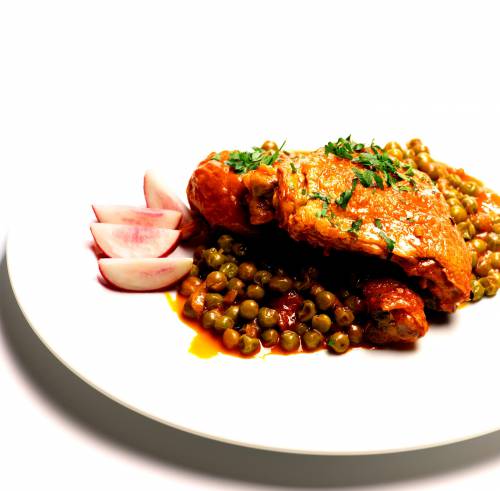 1 whole chicken cut into 8 pieces
½ cup vegetable oil
1 large onion sliced
2 tablespoons tomato paste
1 liter chicken stock
2 bay leaves
1 cinammon stick
½ kilo peas
Salt pepper
4 fresh radishes
Method:
Wash and dry the chicken well.
Heat a deep pot and add oil. Make sure the oil is hot before continuing to the next step.
Sauté the chicken pieces until all sides appear to be a golden brown colour.
Remove the chicken and most of the oil from the pot (leave only a few tablespoons of oil).
Sauté the onion in the oil, add the chicken to this and cover it with all the chicken stock, tomato paste, bay leaves, cinnamon, peas, and salt and pepper.
Cook on medium heat for about 1 hour or until chicken and peas are cooked through.
If during the whole cooking process the peas or chicken seem dry add extra water to the pot.
As soon as the meal is ready serve it with fresh radishes as a side.