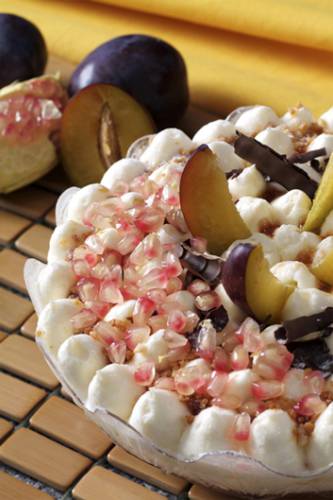 Ingredients
White sponge
½ litre patisserie cream
½ litre whipped fresh cream
4 large plums
1 large red pomegranate
A little thin syrup
Method
In a deep container place lines of cut by 1/3 white sponge and you spread the syrup with the help of a brush.
Add half the patisserie cream by spreading it evenly. On top of this place small cut pieces of 2 of the 4 plums, and half of the pomegranate.
Repeat the same procedure and finally cover the lot with the last sponge.
On top of this cover it with the whipped fresh cream and garnish with the fruit that you have remaining.
Instead of fresh whipped cream in the charlotte you can create it with a meringue in which at the end you can brown with the help of the flame thrower.