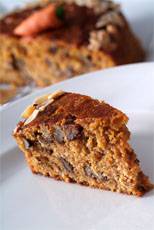 Ingredients
1 cup of oil
1 ½ cup sugar
1 cup orange juice
1 cup almonds flakes
1 cup strained, finely cut syrup fruit sweet (or another fruit sweet of your choosing)
2 cups grated and strained carrot
3 tea spoons baking powder
4 cups of flour
Method
Blend the oil and the sugar.
After this, add the juice and the carrot.
Finally, separately add the flour and the baking powder together with the almond flakes and the sweets, mixing them all together. This is done so the sweets don't go to the bottom of the pan or mould.
Coat the pan or the mould with the oil, and then sprinkle it with some bread crumb or flour, then add the mixture.
Cook in a preheated over at 170-180°c for 25-30 minutes.