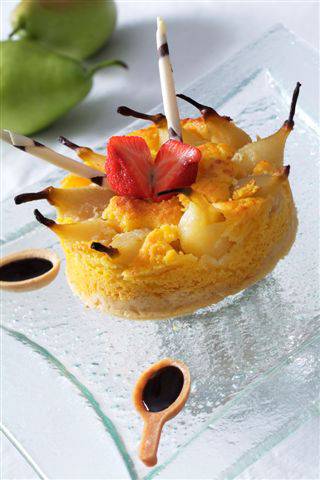 Ingredients:
150 gr (1 ½ glass) flour farina (00)
Zest from a lemon
1 tea spoon baking powder
100 gr (½ glass) sugar
75 gr unsalted butter
1 egg
For the filling:
1 kilo goat cheese (unsalted fresh anari cheese)
400 gr cream cheese
400 gr whole baby pears preserve
200 gr sugar
Juice from one lemon
7 tea spoons caster sugar
1 tea spoon rum or pear liqueur
100 gr chocolate sauce or topping
Method:
Mix the butter with sugar very well in mixer.
Slow down the speed and add the egg and lemon zest.
Mixed the flour with baking powder and add it slowly in the dough.
Cover the dough and leave to rest in fridge until you prepare the stuffing.
Put all the ingredients for stuffing in the mixer except the pears and mix well.
In round big baking trey or individual ones set the dough and topped with stuffing.
Arrange the baby pears and cook in preheat oven for 45 minutes on 170c.
Leave to cool and serve with chocolate sauce.