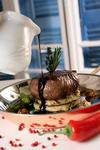 4 beef tenderloins
2 soup spoons butter
4 soup spoons olive oil
½ tea cup walnuts
1 tea cup syrup
16 fresh asparagus
4 medium potatoes
2 tea cups red wine
1/2 tea cup cognac
2 tea cups beef stock
3-4 shallots
Fresh thyme for flavor
Salt-pepper
Method:
Make first the potato rosti. Grate the potatoes into a large bowl and season with salt and pepper.
Heat a shallow non stick pan, add 2 soup spoons olive oil and divide the potatoes in 7 cm inch metal pastry cutters. Press the mixture down with a spoon and baked in hot oven for 15 minuets.
Pass the walnuts from the syrup and dry them in low oven for 10 minuets. Leave to cool.
In a non stick fry pan add the rest of olive oil and butter and fry the fillets from both sides. Finish the cooking in the oven as your cooking perfection.
Blanch the asparagus in hot boiling water for 3-4 minuets, drain and flash fried them with a drop of butter, season with salt and pepper.
In a sauce pan head drops of butter, fry the shallots, add the wine, the cognac and the stock and put the thyme together for the aroma.
Leave the sauce to reduce by quarter, pass through a fine sieve and cover until ready to use.
To serve, gently warm the sauce, but do not boil. Turn out the rosti in the plates, put the steaks on top and spoon a little sauce over the steaks. Accompanied with walnuts and asparagus.