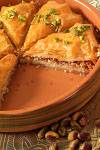 Ingredients
24 sheets of filo pastry
400gr clarified butter or corn oil
20gr cinnamon
100gr nibbled almonds
100gr nibbled pistachio
50gr sugar
Syrup ingredients
½ kg sugar
1 lemon (zest and juice)
150 ml Water
1 orange (zest and juice)
1 small cinnamon stick
2 cloves
Little rose water
Method:
Prepare a shallow tray of your choice, smaller than the sheets of filo pastry.
Brush the tray with melted clear butter or oil.
Place on one by one the filo pastry sheets by using the first 5 sheets in way of crossing placement and brush every single sheet with the fat.
In another bowl prepare the filling by mixing the nuts (almonds and pistachio), sugar and cinnamon.
Place the nuts mixture into the prepared tray, layered alternatively with filo pastry Do not forget to brush each layer with the butter or oil.
It looks more presentable if you arrange 2-3 layers of filling, separated by filo pastry.
Fill until the top of the tray and cover with filo pastry.
Brush well with the butter.
Mark the pastry into diamonds, sprinkle with little water and bake in a moderately hot oven at 170-180c for approximately 45 minutes.
Meanwhile prepare the syrup by place all the ingredients in a pot and bring to the boil.
Simmer for about 10-15 minutes put few drops of rose water and leave to be cool.
When the baklava is baked and still be very hot, pour around all over the syrup and decorated with some nibbled pistachio.
When the baklava become cool cut into diamonds and serve it in individually pieces.