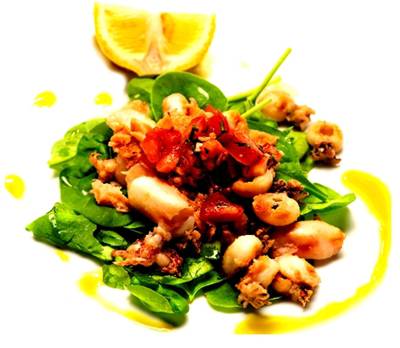 1 bunch spinash (only the leaves)
800 grams baby squid
10 table spoons olive oil
1 table spoon white vinegar
1 tea spoon chopped dill
1 garlic clove
2 bay leaves
2 tomatoes
4 fresh basil leaves
Salt and pepper
2 lemons in quarters
Extra virgin olive oil gor garnish
Method of Preparation
Place the tomatoes in a small strainer, add salt and leave for 20 to 30 minutes.

Transfer them to a clean container; add 2 tablespoons of olive oil, chopped basil and pepper.

Keep them in the fridge for as long time as needed.

In a medium pot boil water and add the squid for 5-6 minutes. Drain well.

Place them in a clean pan and add the vinegar, olive oil, dill, garlic and bay leaf.

Put them in the refrigerator over one night.

When you need to prepare the salad put in the center of the plate races from spinach, squid after you drained them well and finally marinated tomatoes on top.

Sprinkle with a little olive oil and serve with fresh lemon.