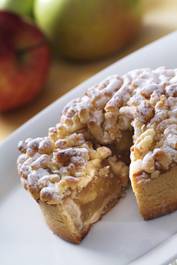 Ingredients

8 portions
Crust
1 3/4 cups all purpose flour
1/2 teaspoon salt
6 tablespoons chilled unsalted butter, cut into small pieces
5 tablespoons chilled solid vegetable shortening, cut into small pieces
2 tablespoons (or more) ice water
Filling
10 medium pounds Granny Smith apples, peeled, cored, thickly sliced
1 tablespoon fresh lemon juice
2 1/2 tablespoons unsalted butter
1/3 cup sugar
1 teaspoon ground cinnamon
2 tablespoons apple cider (apple wine) optional
1 tablespoon corn flour
1/4 cup apple liqueur
Topping
3/4 cup all purpose flour
1/2 cup sugar
1/4 cup (packed) golden brown sugar
3/4 cup chopped walnuts optional
6 tablespoons (3/4 stick) unsalted butter, cut into small pieces
1/4 teaspoon salt
Method
For crust:
Mix flour and salt. Add butter and shortening and cut in, until mixture resembles coarse meal. Add 2 tablespoons ice water in. Process until moist clumps form, adding more ice water by teaspoonfuls if is too dry. Gather dough into ball and wrap in plastic. Chill for approximately 1 hour.
Roll out dough between 2 sheets of plastic wrap to 14-inch round. Transfer dough to a glass pie dish or any other round pastry oven form. Fold overhang under. Pierce bottom of crust all over with fork. Freeze crust 15 minutes. (You can prepare it from the day before. Keep frozen.) Preheat oven to 180c. Line crust with aluminum foil. Fill with pie weights or dried beans. Bake 15 minutes. Remove weights and foil. Bake until golden, about 10 minutes longer. Leave it to cool down.
For filling:
Put apples and lemon juice in medium bowl. Melt butter in heavy large skillet over medium-high heat. Stir in sugar and cinnamon. Add apples; sauté until coated with cinnamon butter and crisp-tender, about 5 minutes. Whisk cider and cornstarch in small bowl. Add to apples. Bring to boil, stirring constantly. Transfer apple mixture to large bowl. Mix in applesauce. Cool completely. (Crust and filling can be made 1 day ahead. Cover crust; let stand at room temperature. Cover and chill filling.)
For topping:
Mix all by using fingertips; rub all ingredients in bowl until moist clumps form. in a bawl and Preheat oven to 170°c.
Place filling in crust. Sprinkle topping over apples. Bake until topping is golden brown, about 40 minutes.
Add some icing sugar on top and serve it with vanilla ice cream and fresh cream hot or cold.