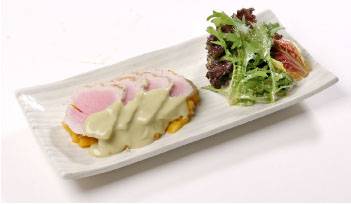 400 gr fillet of fresh tuna
400 gr fresh mature mango
240 gr mayonnaise
40 gr of sugared milk
10 gr wasabi paste
40 gr chilli paste
20 gr honey
20 gr fresh lemon juice
Salad leaves
200 gr apples
50 gr onions
2 cloves crushed garlic
30 gr vegetable oil
4-6  Tabasco drops
Method:
Heat a pan with a few drops of oil and sauté lightly the tuna fillet.
Remove it once slightly browned; we place it on non grease paper and then place it in the fridge.
Peel the mango and cut it in cubes.
Prepare the sauce for the tuna by beating in the mixer the mayonnaise, milk, wasabi, chilli and honey.
Peel the apples, remove the pips and blend in the blender with onions, garlic, oil and Tabasco.
Place the mango cubes in a plate and on top the slices of tuna.
Pour on top the sauce.
Mix the salad leaves with the apple sauce and serve the tuna together with the salad.