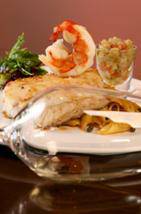 4 halibut fillets
8 soup spoons olive oil
4 soup spoons lemon juice
1 tea spoon green pepper corns
4 peeled prawns
4 cups cooked penne pasta
For aubergine salad:
2 medium aubergine
4 soup spoons extra virgin olive oil
Juice from half lemon
1 chopped garlic glove
½ chopped red chilli pepper
1 soup spoon chopped coriander leaves
1 drop mastic oil
Salt and pepper

Method:
Place the fillets on a roasting tray, season with salt and pepper coat it with the olive oil and lemon juice, and cook in an oven at 180C for 15-20 minutes.
Cook the aubergines on the flame of a burner turning continuously until the aubergine becomes soft and is cooked through, allow to cook slightly and remove the skin.
Roughly chop into cubes and mix into with the rest of the salad ingredients.
Remove the fillets from the oven and reserve the juices remaining in the pan, place the juices in a pan over a medium heat and add the pasta and the pepper corns, mix well and allow all the juices to soak into the pasta.
In a clean frying pan season the prawns and sauté them in a bit of olive oil.
Serve the fillets on the pasta accompanied with the aubergine salad and a prawn on the side.