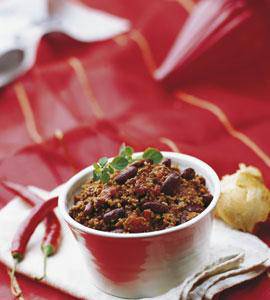 2 medium onions
1 clove garlic
Olive oil
2 teaspoons chilli powder
1 heaped teaspoon ground cumin (or crushed cumin seeds)
Sea salt and freshly ground black pepper
455 grams chuck, minced or ground
200 grams sun-dried tomatoes in olive oil
1 fresh red chilli, deseeded and finely chopped
400 grams  cans chopped tomatoes
1/2 stick cinnamon
5 table spoons  water
400 grams cans red kidney beans, drained
If you are going to use the oven method, preheat the oven to 300 degrees F (150 degrees C).
Chop up the onions and garlic in the food processor and fry in some olive oil until softened. Add the chilli powder and cumin and a little seasoning.
Chop up the meat in the processor and add to the pan, cooking it until slightly browned.
Place the sun-dried tomatoes and Chilli in the processor with the oil and blend to form a paste. Add these to the beef with the tomatoes, cinnamon stick, and a wineglass of water. Season a little more, if need be.
Bring to the boil, cover with greaseproof paper and a lid, then either turn the heat down to simmer and cook for 1 1/2 hours or transfer the pan to the oven for about 1 1/2 hours.
Add the red kidney beans 30 minutes before the end of cooking time.